Peepli Live
(Hindi, Dir: Anusha Rizvi and Mahmood Farooqui)
MK Raghavendra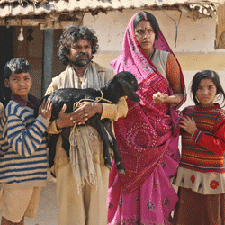 The economic conditions of farmers is not a subject that Hindi cinema has concerned itself with in the recent past. Agrarian issues, to the best of my knowledge, were last dealt with as long ago as the late 1960s although the 'daku' genre still thrived in the 1980s. Where earlier agrarian films like Mother India (1957) and Ganga Jumna (1961) dealt with rural poverty and the exploitative zamindar/ moneylender, Upkaar (1967) explored the manipulation of the peasant by the trader. While the three films just cited are 'political' in the sense that they are driven by the notion of class conflict, the latest exercise in Hindi agrarian cinema, the Aamir Khan-produced Peepli Live, is a different kind of film which exhibits humanist concern without being 'political' in a comparable way.


For a mainstream film Peepli Live appears to give us a view of rural India that is without precedent in its authenticity. At the same time there is evidence in Peepli Live that Bollywood is addressing a vastly more segmented audience than Hindi cinema traditionally did. The titles of most mainstream films appear only in English today and Peepli Live - apart from having its titles only in English - also has a concluding English legend (about the migration of farmers to the cities). Since this concluding legend is important to the thrust of the film, it can be argued that the film is addressing only those who can read English fluently. Where, as argued by film theorists, Hindi cinema traditionally addressed the Indian nation, Bollywood [1] is apparently addressing only the Anglophone Indian nation. Indians with a working knowledge of the English language perhaps constitute a 'nation' within the Indian nation today. The segment also wields enough influence to make the state act on its behalf - while appearing to be acting for the Indian nation.


Many of the rustic protagonists of Peepli Live could well have been played by authentic rustics and this is very different from films like Mother India and Upkaar in which the village folk played by Nargis and Manoj Kumar looked city bred. Even the rural exuberance of Dilip Kumar in Ganga Jumna is feigned when compared to Natha and Budhia in Peepli Live. At the same time, the authenticity of the rustic protagonists of Peepli Live is limited to their speech and gestures. The film declines to construct fiction around them relating to their families and the intimate circumstances of their lives. Where Radha's family life was central to Mother India, for instance, we know little about Natha and Budhia's families or their antecedents. Where we were made to identify with Radha in Mother India and almost thought her thoughts, Peepli Live, while exhibiting concern, also prevents identification. We are never allowed to get into the minds of the protagonists as Mother India allowed us to. Peepli Live is being clear that its rural protagonists and its audience belong in completely different worlds and there is little reason to confuse the two.


Peepli Live is set in a small village named Peepli in central India and when the film begins two poor farmers Natha (Omkar Das) and his brother Budhia (Raghubir Yadav) are in danger of losing their land because of unpaid loans. The two are desperate but a local politician mentions casually that the government has announced compensation of one lakh rupees for every indebted farmer who kills himself. This has the brothers thinking and it is finally agreed that Natha will sacrifice himself. The film successfully turns the choice of Natha as an unwilling 'martyr' into black comedy of a kind not often seen in Hindi cinema. As chance will have it, however, Natha voices his decision to kill himself inside a public space and this is overheard by a media person. Peepli is located at a political fulcrum because it is the constituency of the Chief Minister of the state and local elections are imminent. Trying to manipulate political forces and ensure his defeat is the central government. The political conflict around Peepli means that Natha's proposed suicide is especially newsworthy. Hordes of television personnel therefore descend upon Peepli to catch his demise on camera. Natha is the first 'live suicide' they have known because every other farmer's suicide came to attention known only after the person's death.


Peepli Live is rich in satirical detail. Apart from the television crews preoccupied with 'eyeballs' and ratings, there is the local Thakurs who insist that Natha should kill himself when he begins to have second thoughts. The off-camera bonhomie between the minister for agriculture (Naseeruddin Shah) and the television show hosts is caught well as is the glibness of the minister who casually devises new 'yojnas' which cannot be implemented. The secretary for agriculture is a different kind of person who would prefer to wait until the High Court has taken a view on Nath's declared intent. Also caught intelligently are the rumblings in Natha and Budhia's family - especially the shrewish, screaming women. Rather touching is the impoverished farmer digging for mud to sell and dying from exhaustion, quite unnoticed. Perhaps excessive is the episode in which Natha needs to relieve himself but cannot escape the cameras and the television crews - who scrutinize even the excrement he has left behind a rock, while sheltering from the camera, and speculate about it. In any case, Natha cannot take any more of all this, but by some quirk of fate, his death is announced when someone else is killed in an accidental fire. The Chief Minister has announced an inducement of one lakh rupees to prevent Natha from killing himself but his death by accident means that his family will get no relief. Natha, however, is now far away, working on a construction site in the city and the film ends with an announcement of the millions of Indian farmers who have thus migrated in the past decade.


Peepli Live is directed by Anusha Rizvi and Mahmood Farooqui but it bears the hallmark of the 'cinema of concern' heralded by Aamir Khan within mainstream Bollywood. My earlier remark that the film was 'humanist' rather than 'political' can be elaborated upon now as meaning that it does not identify the issues to be confronted. The film is about rural indebtedness and there are a number of paths it might have taken and questions it might have raised. Normally, it is not fair for a critic to comment about what a film might have been but Peepli Live, I propose, makes itself 'humanist' as a deliberate ploy by which to evade economic and political issues. In examining the predicament in which Natha and Budhia have been placed the film looks upon indebtedness as a 'human' concern rather than an economic one. We do not know under what circumstances the two fell into debt. There are a large number of agencies and economic forces persuading farmers to alter their cropping plans with the lure of windfall profits, and some are enterprises in the retail trade. A film about unfulfilled corporate promises leading to indebtedness would have been more forceful but it might have needlessly disturbed some powerful corporates. It is now coming to light that microfinance is usury of a severe kind [2] but identifying microfinance as the villain in the protagonists' lives might have upset other agencies which could well finance the next film to showcase Aamir Khan's social concerns. These are only two possible causes but Peepli Live diplomatically neglects to name any. If the issue in Peepli Live is embodied in a situation, it describes the situation in a way that defeats solutions. It weeps at a desperate condition that needs a remedy but refrains from naming either causes or remedies, which was not the way of the earlier cinema dealing with agrarian issues.


It is not only in its approach to rural indebtedness that Peepli Live is non-committal and deceptive because it is so in its treatment of the media as well. Like a large number of other recent Hindi films, Peepli Live is co-produced by a television channel. This shows in some of the insights into the methods of television, which could only come from an insider. Yet, in its insistence that television is 'mindlessly' besotted with glamour and ratings, Peepli Live is being insincere and deliberately superficial. The approach of the film suggests that television has become what it is because of the demands of the market. But even a perfunctory look at television shows informs us differently. If one were to consider the 'debates' aired on television, one would see that the questions raised are deliberately 'defanged', as it were. If rural indebtedness is discussed, the question put would perhaps revolve around whether the government is 'doing enough' rather than around what is causing the misery. It can be argued that this is because television channels depend hugely on advertising and their revenues would be imperiled if they worded the questions in a way that might elicit helpful answers. I also propose that television is not 'mindlessly' attached to glamour but that 'glamour' is its creation. Film stars and celebrities would have none if fictions about them were not constantly aired by the media.


One of the more disturbing things about Peepli Live is the people and institutions whose help it chooses to acknowledge. Some of these - like the late Habib Tanvir's drama troupe in Chattisgarh - once had impeccable credentials for radical action. I am not suggesting that these people/ institutions are culpable for Peepli Live but that there is the likelihood of the film riding on the backs of these associations and its approach gaining legitimacy. The media is, by and large, hailing Peepli Live's pungency [3] and has even compared it to Premchand's Godaan. Aamir Khan has already received official acknowledgement of his social concerns [4] and Peepli Live, assisted by the associations and media testimonials, is likely to give him more influence in government circles [5] - perhaps in agricultural policy this time. 'Public opinion' is a decisive factor in policy making. But the influential Anglophone segment addressed by the film is now virtually installed as the 'public' in India and its vocal response will provide the film's message with leverage. Peepli Live delivers the subliminal message that little can be done about rural indebtedness (except shedding tears) because its economic/ political causes cannot be identified. The 'public' acclaim for the film will perhaps reinforce the government's [6] faith in gestures - the same kind of gestures that Peepli Live blandly criticizes it for making.


To conclude, it will be useful to speculate briefly about why, despite its concern, Peepli Live is more timid in its social criticism than films like Mother India, Ganga Jumna and Upkaar. The reason, I propose, is that the corporatization of the economy has lent versatility to capital that it did not possess in the 1950s and 1960s. To elaborate, it might have been possible for film production to be more independent earlier because it was not reliant on other sections of the economy - moneylenders, landowners and traders, for instance, who are attacked in the above three films. Now, on the other hand, corporate entities and groups have a wide range of economic interests and most of them are also increasingly involved in the media. This means that capital presents a united front against social and economic criticism, as it were. If this is granted, there is perhaps a greater degree of censorship today - at the level of ideation - although the censoring authority is not the State but the economy.

Notes
1.

The term 'Bollywood' was, as late as in the new millennium, resisted by doyens of the film industry in India because they took the term to be pejorative, i.e. that mainstream Hindi cinema simply aped Hollywood. The indications now are that the term 'Bollywood' first became acceptable currency around 2002-03 not within India but in the UK and USA, in places like Bradford, Leicester and Birmingham, where Hindi films are marketed as a brand with 'Bollywood' becoming a kind of handy label. See Ravi Vasudevan,

The Meanings of 'Bollywood'

,

http://www.jmionline.org/jmi7_8.htm

2.
3.

There are nonetheless some dissenting voices which are heartening. For instance, see Tejal Kanitkar, 'Images and Politics in

Peepli Live

' in

Pragoti: Progress and Struggle,

27th August, 2010.

http://www.pragoti.org/node/4114

4.

Apart from his Padma Bhushan in 2010, Aamir Khan has also shared a platform on education with visiting US Secretary of State Hilary Clinton, something which could not have happened without the government's tacit approval. The reason was apparently his film Taare Zamin Par (2007) about educating a mentally disadvantaged child.

5.
6.

Ibid. The same report says that LK Advani was also all praise for Aamir Khan. The acceptance of the film by politicians of different ideological hues (the Congress as well as the BJP) confirms that Peepli Live is politically and economically non-committal.
MK Raghavendra is the Founder-Editor of Phalanx.
Courtesy:
buzztags.in