Kiran Desai's The Inheritance of Loss
The Look of Things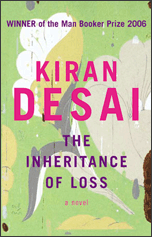 A new work of fiction is perhaps like an unknown object and needs to be described and classified accurately, its intended function determined before its usefulness can be evaluated. Most scholarly reviews of fiction do not do this and, instead, name the unknown object as if in an unknown language, "The polymorphic and polysemic text creates a flux of narratives and readers travel through the dark labyrinths and discover their own meanings. The end result is a juxtaposition and amalgamation of characters and situations from diverse time and space which creates a literary mosaic." It is commonsense that the identifying of a new object should be in a language widely understood but the object's strangeness and its lack of a discernible purpose is hardly admitted when such language is employed and that, in the final analysis, may be more useful to the publishers than a straightforward assessment.


Kiran Desai's new novel The Inheritance of Loss is an uncertain literary object. The reviews it has received in the Indian press don't really tell us much about it although they are all eulogies. Still, the Man Booker Prize being the highest regarded achievement for an Indian novelist in English, The Inheritance of Loss demands to be 'identified'. Desai's novel is 'literary' in the sense that many of its passages are quotable, no mean achievement considering that one usually ploughs through whole sections of fiction without detecting a noteworthy sentence. Here, for instance, is Desai's evocative description of a cat –

"Then there was the cat, Mustafa, a sooty hirsute fellow demonstrating a perfection of containment no amount of love or science could penetrate. He was, at this moment, starting up like a lorry on Sai's lap, but his eyes looked blankly into hers, warning her against mistaking this for intimacy."

The writing is accomplished and the prose has evidently been worked upon. The object, in effect, is sophisticated but there is still its function to be determined, which means that the fiction constructed needs to be examined before we decide on the novel and the extent of its achievement.


In accordance with contemporary literary preferences the novel weaves together different narratives without much attention to chronology. Their connection is a spot called Cho Oyu near Kalimpong and the lives connected are chiefly those of Sai Mistry a sixteen-year-old orphan, Jemubhai Patel, Sai's grandfather and a former judge, their cook and his son Biju who is away as an Indian immigrant in Manhattan, Sai's twenty-year-old Nepali tutor Gyan and a dog named Mutt. The central narrative unfolds in the shadow of the Gorkhaland movement and each person finds her or his life affected. Gyan is a Gorkha and his romance with Sai ends because his sympathies are divided. The judge and the others find themselves foreigners in their chosen home and Biju who returns from Manhattan with his savings is divested of them by young Gorkha rebels when on his way to Kalimpong. The dog Mutt also disappears mysteriously, perhaps killed by the militants.


Kiran Desai's virtuosity as a writer of narrative prose is apparent from the very first paragraph in which the movement of the mist across the 'great flanks of the mountains' is likened to a water creature. As one gets deeper into The Inheritance of Loss, however, one finds oneself retaining very little of whatever one reads. We never learn very much about her characters though she draws thumb-nail sketches of most of them. Jemubhai Patel's father, for instance, is described as owning a 'modest business procuring false witnesses to appear in court'. The difficulty is that no further use is made of the information and it remains a colorful distraction. Whatever information we receive about the characters does not influence the narrative significantly and we recognize that the details provided are usually gratuitous. Many of the details only help us form cinematic images of the events, as it were, although in cinema's case the visual details are largely those it cannot help provide. As an instance, we may look at Cho Oyo's setting – 'at the foot of Mount Kanchenjunga'. If this is like locating an apartment in relation to the Arabian Sea, the image of peak vis-à-vis the house could still embellish the scene in a film. One goes on to actually imagine the opening frame of the film, the camera tilting upwards from the verandah of the house to the Kanchenjunga and the clouds drifting past its summit.


While much of the novel is given to effects of this kind, it contains little that corresponds to experience. Jemubhai Patel is an embittered former judge but there are virtually no details pertaining to his work as a judge in the colonial period and there are few convincing reasons for his bitterness. Biju works in an eatery in Manhattan but we don't learn much about the social lives of immigrant laborers or the precise economic relations they are governed by. Since Biju eventually loses everything, it would only be by letting the reader see the trouble taken to earn the money that Biju's story might have been made tragic. The Gorkhaland movement is also any violent movement that might emblemize a 'loss of innocence'. The commotion the novel has caused in the North-East perhaps even flatters it.


The narrative voice employed by Desai might be described by post-colonial theorists as 'multi-accented' but it is not so much that the narratives correspond to a multitude of individual voices as that there is an absence of an identifiable voice in any of them. In one later segment – perhaps regarded highly by the author because she chose it for her reading – Biju lands at Dum Dum Airport in Kolkata. Instead of the narrator's eye sticking by Biju, it deserts him when he is retrieving his luggage and goes off to look at the other people – the yuppies, the toilet cleaners, the 'Bhangra boy', the taxi drivers, the hippies, the straight-laced businessman, their talk and their conduct. But if the effect is colorful the author is still merely reworking the familiar. Moreover, if the intent is only color/spectacle and there are no restrictions on what the narrator's eye may see, why should it even confine itself to Dum Dum? This lack of faithfulness to a viewpoint in any of the narratives also suggests a writer preoccupied only with the look of things. If the eye had stuck by Biju, for instance, it might have become privy to the brief solidarity among returning Indians of various kinds in the face of a common foe – the Customs Department!


Desai's writing is cultivated but she is not fastidious. Her writing style is not exactly 'magical realist' but her novel tends towards the same calculating charm and not often with justification. There is one section in the novel in which Gyan tells his story to Sai. The story is related in indirect speech but it employs ruses that are suspect. Gyan's ostensible purpose is to inform Sai about how his Gorkha ancestors served as British soldiers and how they died serving the Crown for generations without ever visiting England. Here is how it begins –

"In the 1800s (Gyan's) ancestors left their village in Nepal and arrived in Darjeeling, lured by offers of work on a tea plantation. There, in a small hamlet bordering one of the remoter tea estates, they had owned a buffalo renowned for its astonishingly creamy milk. By and by along came the Imperial army, measuring potential soldiers in villages all over the hills with a measuring tape and ruler, and they had happened upon the impressive shoulders of Gyan's great-grandfather, who had grown so strong on the milk of the buffalo that he had beaten the village sweet-seller's son in a wrestling match, an exceptionally glossy and healthy boy."

The wondrous buffalo features in Gyan's family saga even a generation or two later because its absence means that the boys are not glossy and healthy but chronically spindly. One wonders if a buffalo would become so central in a tale told by a Gorkha boy to illustrate how members of his family died serving the British – especially when one cannot imagine an English farmer and his cow described thus. The narrative has the sound of a child's story in which animals are legitimate players in human dramas. The childlike simplicity attributed by the former colonizers to the colonized is often a trait accepted by the former colonized as their own in post-colonial fiction.


Much of The Inheritance of Loss also seems designed for a theoretical intervention – not only because of Desai's casual invoking of Gayatri Spivak but also because of Sai's eventual realization, "Never again could she think there was but one narrative and that this narrative belonged only to herself, that she might create her own tiny happiness and live safely within it." This has been interpreted as meaning that a single self-contained story is something Desai can no longer write because of her awareness of the contrary worlds of those who belong and those who are alien. But since Sai is not a writer shouldn't we also ask why she is made the receptacle for such writerly dilemmas? Or is Desai simply scattering literary clues for critics to chase after? Post-colonial theorists derived many of their ideas by studying novelists like Conrad, Kipling and Naipaul but here is an ambitious contemporary attempting to market herself as a writer whose novel will sustain their theories!


The Inheritance of Loss is not an especially bad novel but it has few insights to offer. The discontinuities and the narrative fragmentation, the absence of a unifying vision perhaps seem characteristic of post-modern texts and that might make Kiran Desai up-to-date. Still, there seems something demonstrably absurd in a thirty-five year-old writer arguing for discontinuities and fragmented narratives when nearly a third of her entire life (by her own admission) has been governed by a single purpose – working incessantly at producing a prize-winning novel. To conclude, it is becoming increasingly difficult for reviewers to get to the heart of a contemporary novel and The Inheritance of Loss appears to have no centre. As long as novelists wrote from experience (however trifling) they simply produced good or bad novels. A bad novel is perhaps one that (unintentionally) reveals too much of the author – her or his prejudices, for instance. Kiran Desai is a newer kind of novelist, a writer so conscious of what should be written about that she fulfills a prescription, so tutored in 'correct' perspectives that she gives nothing away. To use an analogy from science, the first criterion that a theory must fulfill is that it must be 'vulnerable'. A theory that cannot be falsified is evidently worthless and 'falsification' implies measuring it against experience. Desai's novel is the kind that one cannot take exception to because it is so 'correct', its multiple narratives all so acceptably dreary. If it is sensitive, it is not so much to experience as to the hazards of falling foul of theory and theorists. When Desai gives Gyan and Biju voices, for instance, it is not because she has any understanding of people like Gyan and Biju and their actual situations. I propose that a work of fiction not 'vulnerable' enough for the reader to respond to as processed/ transformed experience has little value as literature. It is perhaps by this reckoning that The Inheritance of Loss should be evaluated.