In the last issue the translator produced two translated versions of the same Borges story, The Library of Babel. This provoked one of our readers to attack the translator and his reaction – along with the translator's response to it – is reproduced separately in this issue. The reason Borges is picked to be the writer to translate in different ways is that he does not deal with the surfaces of reality as much as with other texts through which reality is filtered, and each word often refers to previous usages in literature. Producing two versions – perhaps one with and one without literary echoes – therefore has a significance that might not exist if the story were 'realistic', i.e. deal more directly with experienced reality.
The Circular Ruins (1940) is one of Borges' most celebrated stories but it is not a favorite with this editor - who thinks it sounds like a great writer imitating himself/herself. It even sounds as though it is prefiguring magical realism in some way with its profusion of dense images and use of metaphor. Borges, it must be noted, has been taken to be magical realist and a fact about the two translations is that while the idiomatic translation makes Borges sound like a magical realist, the literal translation does not. Here is the idiomatic translation of a passage from the story:
"What is certain is that the grey man brought to his reverent lips the venerated slime of the river, that he climbed the bank heedless of the lacerating reeds, not feeling them tear his flesh, and that he dragged himself, bloodied and dizzy, to the circle of stone that a tiger crowns, or a stallion maybe, which had worn the color of flame once, and now shows ash. Fire had long since devoured the temple that stood within, whose ground the fevered jungle defiled now, and whose god was no more honoured by men."
And here is the literal translation of the same passage:
"The certainty is that the grey man kissed the mud, regained the riverbank without parting (probably without feeling) the reeds which tore apart his flesh and dragged himself dizzy and bloodied to the circular enclosure which a tiger or a horse of stone crowns, which had at one time the colour of fire and now that of ash. That arena is a temple which ancient fires [had] devoured, which the malarial jungle has defiled and whose god does not receive honour from men."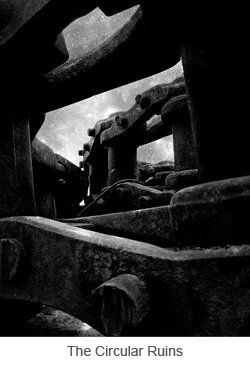 The literal translation appears more 'factual', using verbs ('tore apart his flesh') where the idiomatic one uses adjectives ('heedless of the lacerating reeds'); where the literal one uses straightforward descriptions ('the malarial jungle', i.e. a jungle infested by mosquitoes) the idiomatic one uses metaphor ('fevered jungle', i.e. a jungle which one might imagine when delirious with fever). One wonders if a misreading of The Circular Ruins was responsible for Borges' reputation as a magical realist.









Complete Story: Las Ruinas Circulares

Editor

Courtesy: c2.staticflickr.com